Fig. 1
A new study finds that some peculiarities of adult Neanderthal skeletons may be the product from repetitive scrapping:
Abstract




Unique compared with recent and prehistoric Homo sapiens, Neandertal humeri are characterised by a pronounced right-dominant bilateral strength asymmetry and an anteroposteriorly strengthened diaphyseal shape. Remodeling in response to asymmetric forces imposed during regular underhanded spear thrusting is the most influential explanatory hypothesis. The core tenet of the "Spear Thrusting Hypothesis", that underhand thrusting requires greater muscle activity on the right side of the body compared to the left, remains untested. It is unclear whether alternative subsistence behaviours, such as hide processing, might better explain this morphology. To test this, electromyography was used to measure muscle activity at the primary movers of the humerus (pectoralis major (PM), anterior (AD) and posterior deltoid (PD)) during three distinct spear-thrusting tasks and four separate scraping tasks. Contrary to predictions, maximum muscle activity (MAX) and total muscle activity (TOT) were significantly higher (all values, p<.05) at the left (non-dominant) AD, PD and PM compared to the right side of the body during spear thrusting tasks. Thus, the muscle activity required during underhanded spearing tasks does not lend itself to explaining the pronounced right dominant strength asymmetry found in Neandertal humeri. In contrast, during the performance of all three unimanual scraping tasks, right side MAX and TOT were significantly greater at the AD (all values, p<.01) and PM (all values, p<.02) compared to the left. The consistency of the results provides evidence that scraping activities, such as hide preparation, may be a key behaviour in determining the unusual pattern of Neandertal arm morphology. Overall, these results yield important insight into the Neandertal behavioural repertoire that aided survival throughout Pleistocene Eurasia.
The tasks that experimentally cause the same kind of asymmetry are hacking, pushing and pulling, while actions related to spear thrusting actually seem to reinforce the left side. The authors think that the repetitive nature of the task, which takes a very important work time investment in modern studied populations from Africa and the Arctic, may have been decisive in the development of the deformations.
Scrapers are incidentally the most common tools found in Neanderthal sites all across West Eurasia.
Of course it could well be that Neanderthals were mostly left handed for some odd founder effect of their species or even cultural bias. This possibility is also considered by the authors although it is not their primary hypothesis.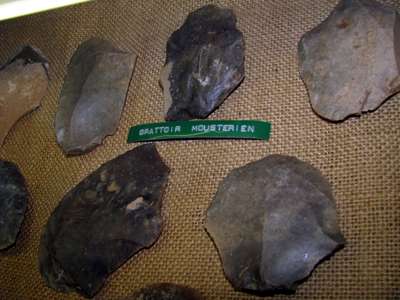 Some Mousterian scrapers (source)